Dips are just the perfect party food. You can lay out a variety of them to please a crowd, and they can be picked at all evening. Instead of firing up the oven, why not use your air fryer instead? We've got the best air fryer dip recipes that you can whip up in no time!
Plus, your air fryer is also great at reheating dips. So, whether you've got leftovers or things are starting to cool off a little too much, you can pop it right back in for a nice, warm dip. Your oven wouldn't even be done preheating by then!
Now, let's get to those awesome air fryer dip recipes and get cooking!
1. Blueberry Brie Pastry Dip
Brie, puff pastry, and blueberries that reminisce of your favorite pie filling combine to make this incredible air fryer blueberry brie pastry dip.
It only takes 20 minutes (prep time included) to get this elegant looking appetizer on the table. Though, in fairness, it would work well for dessert as well!
Serve this warm dip straight out of the air fryer alongside your favorite dippers. Pretzels are perfect for the sweet and salty combo, but crackers and cookies work well too. You could always just eat it off the spoon, I certainly wouldn't blame you!
This dip is perfect for the holidays, entertaining, or any time you want to just enjoy the classic combination of creamy cheese and sweet berries.
Air Fryer Blueberry Brie Pastry and Dip Appetizer
This is an impressive air fryer blueberry brie pastry and dip appetizer! Brie and puff pastry comes out wonderful. Once you know what to dip in brie, you can make this tasty brie cheese dip. Try baking in an air fryer and make this delicious blueberry brie appetizer.
Check out this recipe
2. Air Fryer Salsa
Everyone knows the secret to the best salsa is getting a good char or caramelization on your vegetables. Thanks to your air fryer, though, you won't have to stand there turning them over an open flame!
That's right, all your salsa favorites like your tomatoes, peppers, and onions can go right in your air fryer. There, they'll get soft, browned, and perfect for this classic Mexican dip.
Everything comes together in less than 20 minutes, including a quick trip through the blender or food processor to make it the perfect dipping consistency.
It's nearly as convenient as store bought, much fresher, and you can tweak it to your personal tastes in terms of heat level and seasonings. What's not to love?
Serve it with the classic tortilla chips for the perfect appetizer or addition to any party or tailgate!
Easy Air Fryer Salsa
If you love snacking on chips and salsa then you have to make this air fryer salsa. This recipe has simple ingredients that burst with flavor.
Check out this recipe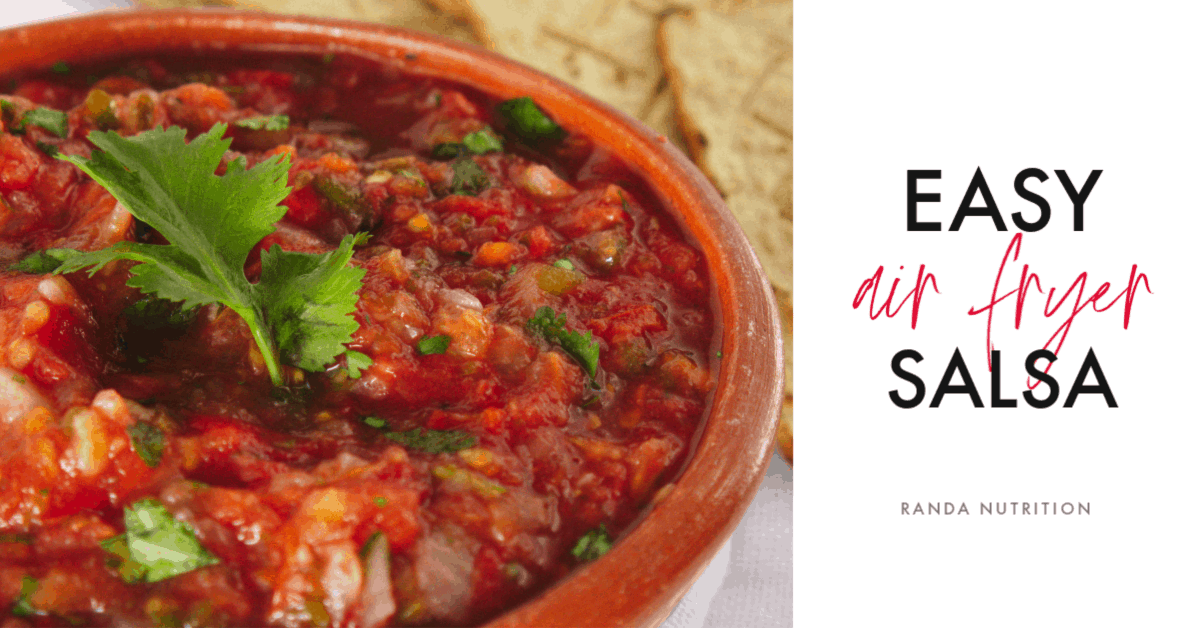 3. Hot Crab Dip
One of our favorite appetizers for our annual Christmas Eve dinner is crab dip. It makes the table every year! This air fryer hot crab dip takes it to a whole new level, though!
I mean, how could you say no to sweet lump crab in a creamy, cheesy dip? Add in some herbs, seasonings, and a kiss of lemon to really make things pop.
Since you're probably making this for guests, the best part is you can assemble it ahead of time and store it in the fridge. When folks arrive, just pop it in your air fryer and it's ready for the table in 10 minutes!
Not only is that way faster than the oven, it keeps the oven free for the main course and lets you get back to socializing that much sooner.
Serve with some crackers, toasted bread, or even some fresh veggie sticks. Let's face it, I'd probably eat this off a log if you served it to me that way, it's that good!
Air Fryer Hot Crab Dip Recipe
Dip made in an air fryer, yes indeed. This Air Fryer Hot Crab Dip Recipe is quick, easy and great as a party appetizer or snack.
Check out this recipe
4. Air Fryer Buffalo Chicken Dip
Wings, particularly buffalo wings, have to be the most iconic game day snack. Instead of leftover bones and piles of napkins, why not serve up buffalo chicken dip instead? Thanks to your air fryer, it's ready in under 20 minutes and you don't even need to heat up the house!
I also love the fact that you can make smaller batches with your air fryer. That keeps me from consuming a literal gallon of dip!
Adjust the level of heat to whatever you like! After all, wings come in a variety of heat levels as well. Take sides in the ranch or bleu cheese debate, either way it's going to be great!
Serve buffalo chicken dip with carrot or celery sticks, pretzels, or crackers for dipping and you've got the perfect anytime snack or app!
Air Fryer Buffalo Chicken Dip
This easy, delicious buffalo chicken dip cooks up in your air fryer in about 15 minutes. It's spicy, creamy, and perfect for dipping crackers, vegetables and more!
Check out this Buffalo Chicken Dip recipe
5. Spinach and Artichoke Dip
Another incredibly popular dip gets an air fryer makeover in this spinach and artichoke dip!  It's packed with veggies, so that totally makes it healthy, right?
Add in some gooey cheese and lots of flavorful herbs and seasonings and you have one perfect dip. It gets golden brown in your air fryer, much like the oven, but in far less time!
That's right, this delightful dip is on the table in only about 10 minutes of cooking. That's less time than heating up the oven, and leaves it available to cook other items for your holiday or get together.
Serve spinach and artichoke dip with crackers, potato chips, crostini, or pita chips for the perfect dip transport vessel! This hot dip is perfect for your game day spread or an appetizer anytime!
Air Fryer Spinach and Artichoke Dip
This Air Fryer Spinach and Artichoke Dip Recipe is just the appetizer you need for holiday feasts, parties and game day tables.
Check out this recipe
6. Pizza Dip in the Air Fryer
Take everything you love about a pizza and make it into a dip! Then, cook it in the air fryer and you've achieved greatness.
This hot dip is not only fun, but super customizable. I love a classic pepperoni and cheese blend, but feel free to throw in sausage, olives, peppers – basically any topping you'd want on your normal pizza!
It comes together in only about 15 minutes, making it perfect for an easy appetizer or snack anytime. Plus, who doesn't love pizza?
The dip itself is low carb, so it's a great way to enjoy your favorite pizza flavors while skipping the crust. If you're hankering for the bread though, just use some breadsticks or garlic bread as dippers!
Easy Air Fryer Pizza Dip
This heavenly pizza dip can easily be made in your air fryer! It's super easy to make and is a great appetizer for a party, game day, or any event! No worries if you don't have an air fryer, I've included oven and slow cooker instructions too!
Check out this recipe
7. Air Fryer Queso
Take your Mexican cheese dip to a whole new height with easy air fryer queso. This delicious dip is ready in about 15 minutes and cooks up perfectly in your air fryer.
On its own, this is a great vegetarian option, but for meat lovers it's easily modified to add some chorizo or seasoned ground beef. Yum!
The blend of chiles and seasonings give it just the right amount of heat, but you can tweak that as well if you'd prefer more or less.
Serve your queso with the classic tortilla chip offering, or get more creative with waffle fries, soft pretzel bites, or veggie sticks!
Air Fryer Queso Blanco
This easy air fryer queso blanco recipe will be your new favorite hot cheese dip. Serve with tortilla chips for an appetizer or snack anytime!
Check out this Queso Blanco recipe
8. Spinach Dip In the Air Fryer
Ditch the artichokes and go solo with this air fryer spinach dip! This time, spinach is accented by water chestnuts for added texture to make a perfect hot dip.
Of course, it's got plenty of cheese and seasonings, because that's what delicious dips are all about!
The air fryer makes it easy to get great caramelization and melt on your cheese, and gets a crowd pleasing appetizer on the table without having to turn on the range.
This spinach dip is perfect for any time you're entertaining, and the green hue fits perfectly on the holiday table as well!
Serve with your favorite crackers, cauliflower florets, or cucumber slices for dippers!
Air Fryer Spinach Dip
Gosh, I enjoy a high-quality spinach dip. But when I make a spinach dip in the air fryer, it's even better because it's so quick and easy! This party dip is sure to please with spinach, cream cheese, water chestnuts, mayonnaise, and Parmesan cheese.
Check out this recipe
9. S'Mores Dip With Cookie Dough
Air fryer dips can cover your dessert too! Just take a peek at this s'mores dip with the addition of cookie dough.
The classic combo of marshmallows and chocolate is amped up even further by using some cookie dough bites for an irresistible combination!
Your air fryer toasts the marshmallows perfectly, with no campfire required. Plus, you're way less likely to light them on fire this way!
Your air fryer gets this dip on the table, prep included, in 10 minutes or less. That's easy enough for a weeknight treat, and perfect for the summer bbq when you don't want to heat up the house to make dessert for your guests!
Serve with graham crackers for dippers and you've got an easy (and less messy) version of a s'more to enjoy. Alternatively, reach for apple slices as they're just as tasty and delicious!
Air Fryer S'Mores Dip with Cookie Dough
This air fryer s'mores dip recipe features cookie dough for even more fun. It's just 4 ingredients, one pan, and takes less than 10 minutes to whip up!
Check out this S'Mores Dip recipe
Air Fryer Dip Cooking FAQs
Can You Make Dip in an Air Fryer?
Yes, you can make dip in an air fryer.  You'll just need an oven-safe pan that fits in your air fryer's basket or rack.
The air fryer will melt the cheese, caramelize the top, and produce a hot dip in less time than a standard range oven.
How Long Does It Take to Bake Dip in an Air Fryer?
Generally, it takes between 10 and 20 minutes to bake dip in an air fryer. The time will vary slightly based on the specific type of dip and your air fryer.
Of course, there are some exceptions to this, with a select few dips coming in over or under the average time.
How to Cook Cheese Dip in an Air Fryer?
To cook cheese dip in an air fryer, place it in an oven safe dish that fits in your air fryer. Cook at 350°F for around 10 minutes, pausing halfway to stir.
It's important to stir so that the cheese on top doesn't burn.
Final Thoughts
These air fryer dip recipes are an easy way to make great hot dips perfect for entertaining. It frees up oven space, but also doesn't heat up the house, making them perfect for serving year round.
In fact, you can make a whole spread with the variety of recipes here so that everyone is sure to find something they love!
I also love that your air fryer handles smaller batches, so you can size your dip for 2 or batch cook for 20. From Super Bowl parties to holidays to just hanging out with friends, these air fryer dips make entertaining easy, fun, and most importantly: delicious!
Latest posts by Katie Vine
(see all)