Avocados are a great fruit that's high in fat, fiber, and lots of different vitamins. That's why you'll find them as the star ingredient in so many recipes, ranging from breakfast to snacks, and salads to desserts. These avocado air fryer recipes are some of the best ways to enjoy them!
That's right; avocados are a perfect choice for the air fryer. Somehow I think they get even creamier after cooking! 
It's the perfect way to start your morning, or make a healthy snack or side later in the day.
The air fryer is quick and convenient, taking the place of the oven, deep fryer, toaster, and more (depending on the recipe of course)!
I've put together this amazing list to get you started on some of the best dishes you can make with an avocado and your air fryer!
1. Air Fryer Avocado Grilled Cheese Sandwich
This air fryer avocado grilled cheese sandwich plays perfectly on the classic combination of creamy avocado mixed with salty, gooey melted cheese.
Add that to some toasty bread, and you're got an amazing sandwich! Best of all, it toasts up in under 10 minutes, making it perfect even for those busy weekday lunches.
You can swap things up any way you like, adding different types of cheeses (mozzarella is my favorite) or adding in some roasted peppers, caramelized onions, or even bacon jam to make it special.
Pair your easy avocado grilled cheese with some chips, a cup of soup, or some fresh fruit to complete your meal!
Air Fryer Avocado Grilled Cheese
Avocado grilled cheese is absolutely the best air fryer grilled cheese! You can also make it in your oven. The ultimate lunch or dinner!
Check out this recipe
2. Air Fryer Avocado Egg Rolls
There's something amazing about the contrast between a crispy egg roll wrapper and soft, creamy avocado inside of it.
Instead of deep frying, though, the air fryer does the work of giving the outside the perfect crunch while heating the southwest inspired filling.
Pair them with a side of your favorite dipping sauce, like sweet chili, creamy chipotle, or even just sour cream and salsa!
These air fryer avocado egg rolls make a perfect appetizer, snack, or look great with your game day spread.
They're even healthier than a traditional egg roll, but just as tasty!
Air Fryer Avocado Egg Rolls
Air Fryer Avocado Egg Rolls can be found on restaurant menus like Cheesecake Factory, but ours are not only cheaper, but wayyyy better.
Check out this recipe
3. Air Fryer Avocado Tacos
I know, you're probably envisioning some seasoned avocado stuffed inside a taco shell right now. Well, hold onto your tortillas because these air fryer avocado tacos have your classic taco filling stuffed into the avocado itself!
This makes them low carb, but I mean let's face it – they're just fun!
The great thing is that, like most tacos, you can adjust the filling and toppings any way you like. Use ground beef, turkey, or even chicken seasoned with your favorite taco seasoning!
Top them up with cheese, sour cream, salsa, hot sauce, lettuce, tomatoes – whatever you like!
If you're craving the crunch, you can always air fry the avocados themselves coated in a tortilla breading for that crispy feel.
These air fryer avocado tacos come together in only about 30 minutes, making them quick and easy for a weeknight meal. Sounds like the newest twist on Taco Tuesday to me!
Air Fryer Taco Stuffed Avocados
Taco Stuffed Avocados are a great dinner idea that the whole family will love and it's ready in less than 30 minutes! Creamy avocado filled with your favorite taco filling and dipped in crunchy tortilla chips! Yum!
Check out this recipe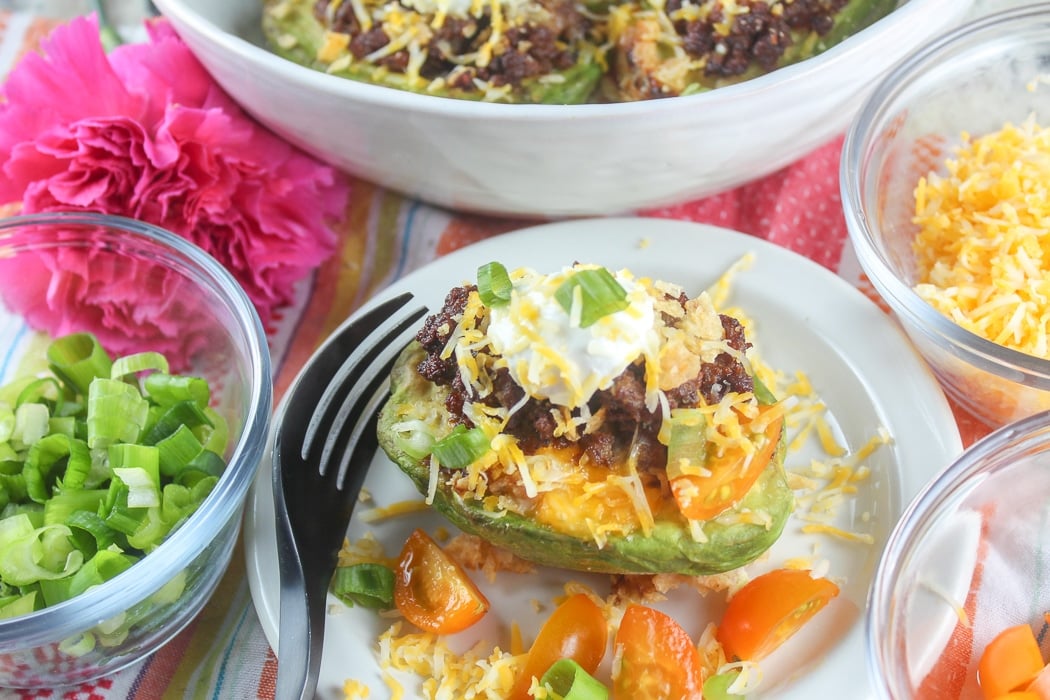 4. Air Fryer Avocado Fries
Fries (or chips, depending where you're from) are the perfect side dish to so many meals. These amazing air fryer avocado fries are no exception!
Thick wedges of avocado are coated in panko bread crumbs and seasonings, then air fried to perfection. I love the contrast of the crunchy outside along with the soft, creamy inside.
You can change up the herbs and spices you add to your coating to perfectly compliment whatever dish you're serving them with.
I also love a good dipping sauce with my avocado fries, like garlic aioli, creamy chipotle, or any other fry sauce you enjoy.
These air fryer avocado fries cook up in only about 15 minutes, so it's easy to swap them in for regular potato fries and still get dinner on the table in time.
Easy Air Fryer Avocado Fries
These easy to make avocado fries are vegan, healthy and make a great side. Included are 5 handy tips for perfectly crunchy fries every time.
Check out this recipe
5. Air Fryer Avocado Egg
You've probably heard of egg in hole toast before. Ditch the bread, and try an air fryer avocado egg instead!
Creamy avocado halves with the pit removed make the perfect vessel for an egg!
Just crack it in, add some salt and pepper (and anything else you might like) and pop it in the air fryer.
Breakfast is ready in just 6 minutes of cooking time, but you can add a little more if you don't want runny yolks on your eggs.
That's easy enough even for busy weekday mornings! Start your day off right with a filling, healthy breakfast.
You can add a side of toast if you're missing the bread, or you can top your air fryer avocado egg up with any sauces or finishing touches you like. I like hot sauce and green onions myself!
Baked Avocado Egg Air Fryer Recipe
This baked avocado egg air fryer recipe is a perfect way to start your morning. They're simple, quick, easy, and most of all, delicious!
Check out this Avocado Egg Recipe
6. Air Fryer Avocado Toast
Avocado toast is incredibly popular as a breakfast option because it's healthy, easy to make, and fairly portable as well. This makes it perfect for even the busiest mornings.
Thanks to this air fryer avocado toast, you don't need a toaster to get the perfect crispy bread on which to slather your mashed or sliced avocado.
Even better, the air fryer can also poach your eggs, so if you want to top your avocado toast up with a nice runny egg, you don't even need another appliance.
Avocado toast can be seasoned any way you like, though I'm always a fan of everything but the bagel seasoning. Feel free to add some chopped bacon or dried beef for some extra salt and protein!
Air Fryer Avocado Toast With Eggs & Beef
Air fryer avocado toast is a quick and easy way to prepare your favorite creamy and crunchy breakfast. Whether you top it with a runny egg and meat is up to you, but it's delicious either way!
Enjoy this Avocado Toast Recipe
What Goes Well With Avocado
Proteins
Beef
Chicken
Turkey
Bacon
Crab
Shrimp
Salmon
Tuna
Black beans
Egg
Dairy
Goat cheese
Feta cheese
Blue cheese
Cheddar
Swiss
Mozzarella
Brie
Burrata
Sour cream
Herbs & Alliums
Cilantro
Dill
Garlic
Basil 
Parsley
Mint
Caramelized onions
Vegetables
Artichoke
Cucumber
Corn
Chickpeas
Edamame
Spinach
Lettuce
Radish
Olives
Zucchini
Carrot
Sweet potato
Fruits
Tomato
Grapefruit
Kiwi
Mango
Strawberry
Lime
Bread
Whole grain
Multigrain
Sourdough
Anadama
Rye
Sauces
Pesto
Chimichurri
Chocolate sauce
Hot sauce
Chipotle
Sriracha
Aioli
Hollandaise
Balsamic
Cilantro lime
Depending what type of avocado air fryer recipe you are making, there are lots of foods that go well with avocado. Add seasonings, toppings, sides, and sauces to make the perfect meal!
Check out my recipes for Spicy Garlic Edamame in the Air Fryer, Caramelized Onions in the Air Fryer, easy Microwave Chocolate Sauce, crispy Air Fryer Shrimp and Crab Toast, or some Air Fryer Salmon Bites for great pairing options!
Air Fryer Avocado Cooking FAQs
How to Ripen Avocado in an Air Fryer?
To ripen an avocado in the air fryer, first wrap the avocado in foil. Place it in the air fryer basket and cook on the air fryer setting for 10 minutes at 400°F (200°C). Check it for softness, and add small amounts of additional time as needed.
This method is a quick way to ripen an overly green avocado for use in a recipe.
How Long to Cook Avocado Fries in an Air Fryer?
Avocado fries should cook for 7-10 minutes on average in an air fryer. The exact time will depend on the thickness of your fries, as well as your specific air fryer.
Make sure to flip the fries halfway through cooking to promote even heating and browning.
How Long to Cook Frozen Avocado Slices in the Air Fryer?
Cook frozen avocado slices in the air fryer for about 5 minutes to defrost and prepare them for use.
For breaded frozen avocado, cook about 15 minutes to not only defrost but also heat and crisp the breading.
How to Reheat Avocado Fries in the Air Fryer
To reheat avocado fries in the air fryer, cook for 3-4 minutes at 350°F, or until warmed through.
This method works for both leftover homemade and restaurant avocado fries, and maintains the crispiness of your breading.
What Can I Substitute For Avocado Oil in the Air Fryer?
You can substitute olive, sunflower, grapeseed, coconut, peanut, sesame, or macadamia oil as well as ghee for avocado oil in the air fryer.
Remember you don't need much oil for air fryer cooking, and the higher the smoke point the better, to prevent burning at higher temperatures.
Final Thoughts
These avocado air fryer recipes are all incredibly delicious and a great way to showcase a variety of different preparations.
From appetizers to breakfast, and side dishes to entrees, there are so many great ways to make use of an avocado in the air fryer.
The creamy fruits are loaded with healthy fats and vitamins, so you can feel good about your meal while not sacrificing flavor. The air fryer makes cooking a breeze, helping you turn out delicious dishes in record time.
I hope you find a new favorite way to enjoy your avocados with your air fryer!
Latest posts by Katie Vine
(see all)