When it comes to quick lunches and budget friendly meals, one of my favorite proteins to reach for is canned tuna. But instead of slapping some mayo in there and calling it a day, why not spice things up? Check out these amazing canned tuna air fryer recipes that really impress.
Canned tuna has so many different uses, and you can create appetizers, lunches, and dinners easily, all starting with a single can.
Don't worry though, just because it starts with a can doesn't mean you won't end up with delicious dishes!
The air fryer does a great job of making things warm, browned, and perfectly cooked without ever needing to fire up the stove or oven. How convenient!
So, let's get into some of the best canned tuna air fryer recipes you can make today!
1. Easy Tuna Patties
Tuna patties, also known as tuna cakes, are like crab cakes, but instead of expensive lump crab meat they're filled with canned tuna! That doesn't make them any less delicious, though.
I love the versatility of tuna cakes – they make a great main dish as is, but you can also throw them on slider or hamburger buns to make things more filling.
Your air fryer is the perfect tool for the task, delivering nicely browned, hot tuna cakes in under 10 minutes of cooking time. That's easy enough for a weeknight meal!
Alternatively, just give them a drizzle of your favorite sauce and they make a perfect appetizer as well. A remoulade or tartar sauce, and of course fresh lemon wedges make the perfect accompaniment!
Easy Tuna Patties
Learn how to make easy homemade tuna patties in your kitchen. Pan fried or air fryer tuna patties are a protein packed fish appetizer, dinner, or side dish.
Check out this recipe
2. Air Fryer Tuna Panini
Take canned tuna, cheese, and some panini bread, and in under 10 minutes you can have this savory sandwich!
Your air fryer does a great job of toasting the bread, getting the cheese all melted and gooey, and heating the tuna salad up perfectly.
This recipe is so simple to make in addition to being quick, making it perfect for any meal of the day.
Pair with some potato chips, a cup of soup, or some fresh tomato salad to round out the meal!
Air Fryer Tuna Panini
Learn how to make a delicious air fryer tuna panini that is crisp on the outside and packed full of delicious fillings.
Check out this recipe
3. Crispy Tuna Patty Croquettes
These tuna patties are shaped like balls and boast the addition of bread crumbs, making them somewhere between a patty and a croquette.
No matter what you call them, they're delicious!
Canned tuna is combined with a variety of seasonings, then bound together in a ball and cooked. Instead of deep frying, though, they're air fried to perfection in only about 10 minutes.
The result is a crispy exterior, and hot, flavorful interior. They're perfect served solo with tartar sauce, lemon, or a spicy aioli.
These tuna patties are great for lunch, or even dinner when paired with some additional sides.
Crispy Tuna Patty Croquettes
Air fryer tuna croquettes are so easy to make! The tuna patties come out crispy and golden brown after cooked in the air fryer.
Check out this recipe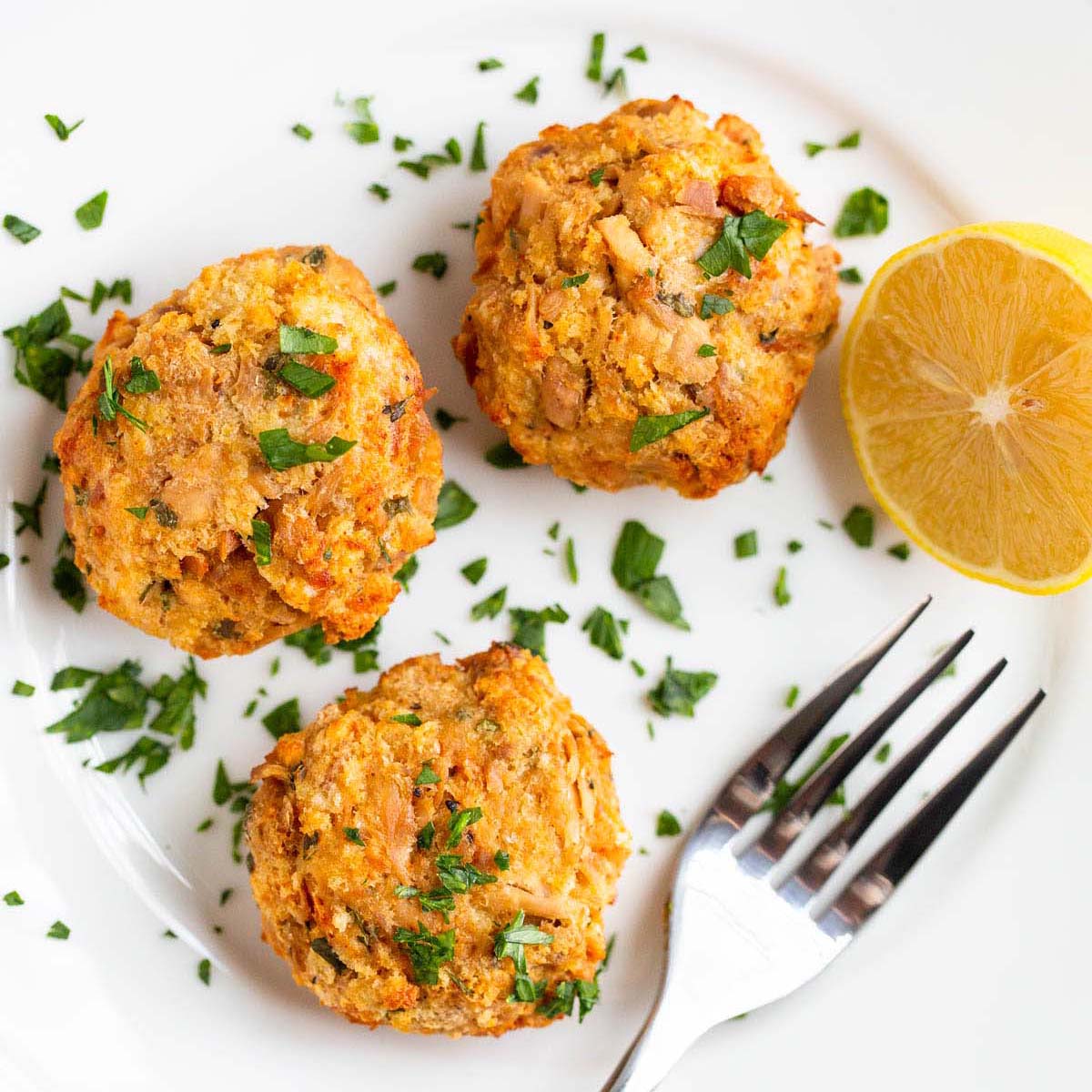 4. Air Fryer Tuna Casserole
The classic comfort food meets a twist in this air fryer tuna casserole. Canned tuna, pasta, peas, and a bunch of seasonings come together under a crunchy breadcrumb topping.
With the help of an oven-safe dish, you can cook everything including the noodles right in your air fryer. Less pans means less mess, which is always a great thing!
Get this family favorite on the table in only about 30 minutes – prep time included!
I like to pair mine with garlic bread and a nice green salad to round out the meal, but choose your favorites!
Air Fryer Tuna Casserole
This incredibly easy air fryer tuna casserole cooks up perfectly with no need to pre-boil the noodles. Your air fryer makes it quick enough for a weeknight dinner!
Check out this Air Fryer Tuna Casserole Recipe
5. Amazing Air Fryer Tuna Melts
Tuna melts are another great recipe for canned tuna in your air fryer!  These open-faced sandwiches combine tuna salad, cheese, and some fresh tomato too.
Of course, if you want to pop a second piece of bread on top and make a sandwich, that's totally fine too. No judgment here!
Choose your favorite bread, cheese, and even adjust the seasonings any way you like to truly make it your own.
It takes less than 10 minutes to throw this sandwich together, and you can even prep the tuna salad portion ahead of time to cut down even more. It's perfect for a nice hearty lunch, or paired with sides for dinner.
Air Fryer Tuna Melt
These easy air fryer tuna melts will be your new favorite way to make the classic sandwich. Enjoy them open face or sandwiched for lunch or dinner!
Check out these Air Fryer Tuna Melts
What to Serve With Canned Tuna Dishes
Green salad
Potato chips
French fries
Sweet potato fries
Rice
Coleslaw
Baked beans
Scalloped potatoes
Creamy soups
Fresh spring rolls
Fruit salad
Canned tuna dishes such as tuna patties, melts, croquettes, and more pair well with a variety of side dishes.
Try any of these great canned tuna air fryer recipes with a side of my creamy Air Fryer Scalloped Potatoes, warm Air Fryer Roasted Butternut Squash Soup, or with some easy Ninja Air Fryer Sweet Potato Fries.
Canned Tuna Air Fryer Cooking FAQs 
Can You Cook Canned Tuna in an Air Fryer?
Technically, canned tuna is already cooked, but you can heat it up in the air fryer. Make sure to remove it from the can first, though.
Whether you heat it plain, or combined with other ingredients to make a recipe from it, the air fryer does a great job of heating tuna without drying it out.
What Can I Mix With a Can of Tuna?
The best things to mix with a can of tuna are bread, pasta, cheese, mayonnaise, or eggs.
Tuna is also complimented well by onions or shallots, and herbs like dill, parsley, basil, or chives.
Do You Rinse Canned Tuna Before Cooking?
You typically do not need to rinse canned tuna before cooking.
It is normal, however, to drain and even pat dry the tuna, depending on the moisture levels required by your recipe.
What Cheese Goes With Canned Tuna?
The best cheeses for canned tuna are cheddar, provolone, swiss, pepper jack, Monterey Jack, or Colby Jack.
Less common alternatives would be American, Gruyere, parmesan, havarti, or mozzarella.
Final Thoughts
These canned tuna air fryer recipes are a delicious yet economical way to get a meal on the table that the whole family will love.
From sandwiches to casseroles to patties, there are many great ways to turn that canned tuna into something really tasty.
Your air fryer does the perfect job of getting just the right balance of toasting, heating, and melting, all while keeping the fish moist during cooking.
Latest posts by Katie Vine
(see all)