Ah, the microwave. Nearly every kitchen has one, and we've all used it to heat things up in a hurry.
Did you know though that there are tools you can get to improve the cooking function of your appliance? Today we're taking a look at the best microwave steamer to add to your arsenal.
Microwave steamers are great for cooking vegetables, proteins, and some even double to make rice! If you're ready to make quick, healthy meals or sides, we've got the guide to help you choose the best one for your family, needs, and lifestyle. Let's get into it!
OUR TOP PICK
BEST FOR VEGETABLES
BEST GLASS
OUR TOP PICK
The Sistema Microwave Collection steamer is our top pick for best microwave steamer. It's available in tons of shapes and sizes to suit whatever you're cooking. Since it stacks well, it's also well-suited to apartment and dorm living.
The slotted basket keeps your food from getting soggy, while cool touch handles all around make it easy to retrieve your cooked meal. Not only does it reduce cook time from a stove or oven, but cleanup is a snap as well in the dishwasher.
I do find the "cool touch" handles can be warm from the steam if you don't let it cool down for a minute or so before grabbing the container. However, this is an incredibly versatile and well-rounded steamer that I wouldn't hesitate to reach for any day.
Pros
Available in a variety of shapes and sizes to cook many things
Cool touch handles to prevent burns
Steam release valve reduces splatters
Snap on lid for secure transport
Stack well for storage
Freezer safe for easy meal prep options
Dishwasher safe for fast cleanup
Made of durable and BPA free plastic
Cons
Lid can be finicky to snap into place correctly
Central pillar makes food retrieval easier, but cuts down on basket space
Also Available At
BEST STEAMER FOR VEGETABLES
The Cuisinart microwave steamer gets our pick as the best microwave steamer for vegetables. It fits really long vegetables well, making it easy to put a whole zucchini in there if you want!
The steaming basket keeps your food safely above the water in the base, so no soggy mess.
Veggies cook in minutes, and since you can put it in the dishwasher you'll be able to use it every night. I never say no to freshly steamed veggies as a side!
Plus, with the Cuisinart name, you know it's going to be a durable and dependable product to add to your kitchen.
Pros
Budget friendly
Long shape holds corn, asparagus, and fish well
Stay cool handles for easy maneuvering
Holds 6 ½ cups
Dishwasher safe
BPA free plastic in fun, bright color
Lid has a steam release vent
Cons
At just over 12" long it doesn't fit in many smaller microwaves (depth particularly)
Lid doesn't lock, so it can slide off if jostled
Also Available At
BEST GLASS
Anyday's microwave cookware wins our best glass microwave steamer pick. Available in a variety of sizes and colors, they're freezer to table ready and versatile enough to work in any kitchen.
They do an amazing job of cooking and steaming foods.
The only downside is that they're more expensive than glass, and if you drop one it's likely game over.
We also don't love that you can't cook a cake in the smaller size without overflowing, so you're stuck with a 4-person model even if you're a 2-person household.
However, they do such a great job at steaming food that these glass microwave steamers are a staple fixture for anyone who does microwave cooking regularly.
Since they're dishwasher safe, you could even use them daily!
Pros
Microwave, dishwasher, freezer, and oven safe
Airtight and leakproof for storage and transport
Stylish frosted glass and a variety of sizes and handle colors available
Steam releases through handle for quick venting
Stack and nest well for storage
Cons
No interior strainer, so food may get waterlogged
May have to break longer vegetables to cook
Not all foods cook well in all sizes, so you may need more dishes to cover all bases
High price point
Glass more likely to break when dropped
Also Available At
BEST VALUE
The Progressive Prep Solutions International Fish & Veggie Steamer wins our budget friendly best value pick.
It handles vegetables, meats, and fish easily. It's sized for 1-2 people, and delivers even steaming for tasty food.
The downside is that, as it is a budget steamer, it tends to warp. You'll need to fight with the lid a bit to secure it.
You'll also need to take care to wash it regularly to keep smells out, but thankfully it's dishwasher safe.
As long as you have space in both your cabinets and microwave, it's a great value microwave steamer to get you started!
Pros
Low price point
Adjustable vent in lid
Made of BPA-free plastic
Dishwasher safe for easy cleanup
Freezer safe
Nonstick cooking surface
1 qt capacity
Cons
At nearly 11" long it may not fit in smaller microwaves
Lid retains smells from cooking
Liner tends to warp after a few uses so closing lid becomes harder
Only about 3" tall, so not much depth allowance for thick items
Also Available At
BEST PLASTIC STEAMER
The Pampered Chef microwave cooker and steamer gets the pick for the best plastic microwave steamer.
The 2-qt capacity is great for 3-4 people, and it cleans in the dishwasher so you can use it every night.
It gets bonus points for versatility, as it may be used to cook soups, rice, and pasta as well as steaming vegetables and meats.
Convenient drainage holes in the lid make that easy. The downside is that it has no steamer basket, so food may get a little soggy.
We also found long things like corn on the cob need breaking to fit inside the bowl-shaped steamer.
However, it cooks well, is easy to use, and fills multiple cooking needs for us. That lands it the spot here for a quality plastic microwave steamer option.
Pros
2-quart capacity
Steam holes double for a strainer
Locking lid
Dishwasher safe
Convenient for left or right handed users
Made of BPA free plastic
Cool touch handles
Works well for rice and soups as well
Cons
No adjustable steam vent
Won't fit some larger vegetables without breaking
No steamer tray to keep food out of water
Tends to overflow easily
Also Available At
BEST DOUBLE TRAY
The Snips microwave steamer gets our pick for the best double basket steamer.
If you want to cook your entire meal in one go, this is the ideal choice for you.
Place a protein in the first basket, a veggie in the top one, and steam everything in one go.
The large size makes it great to cook sides for 4-5 people and an entire meal for 2-3. However, this does mean it won't fit in smaller microwaves well.
This steamer moves easily from fridge to microwave to dishwasher, so it's easy to prep meals ahead of time, cook, serve, store leftovers, and clean up all in the same dish!
Our biggest complaint was getting used to the conversion from the Italian manufacturer to US measurements and it took some time to dial in correct cooking times and quantities.
However, that's just a small learning curve to overcome for another otherwise great microwave steamer!
Pros
Large 16.8 cup capacity
Dual trays allow for steaming proteins and veggies simultaneously
See through lid for easy check-ins
Microwave, freezer, dishwasher, and fridge safe for multi-purpose use
Trays keep food out of water for less mushy cooking
Lid features locking mechanism for security and steam vent
Cons
Locks are finicky and not always easy to secure
At about 11" tall, it doesn't fit in smaller microwaves
All included directions and suggestions are in metric (really only a pain for US folks)
Also Available At
BEST FOR FAMILIES
Since the Sistema brand was our best overall, it's no surprise that they also make the list for the best microwave steamer for families.
This large capacity steamer is great for cooking meals or sides for 5-6 people.
It's easy to use and clean, though if you have multiple sizes they don't stack very well. This is really only a pain if you're lacking kitchen space.
The Sistema works for cooking vegetables, proteins, and basically anything else you'd want to steam.
Due to the square shape, you'll need to cut things to size, but I don't find that to be too much of an inconvenience.
When it comes to cooking in quantity quickly and easily, this Sistema large microwave steamer is the perfect choice for your family.
Pros
Large 13.5 cup capacity
Cool touch handles for easy maneuvering
BPA free plastic
Central pillar in steamer for easy removal
Freezer, microwave, and dishwasher safe
Cons
9.5" square may not fit in smaller microwaves
Lid clasps are finicky and hard to close correctly
Bottom is hot after use, making additional support difficult
Won't fit long vegetables without breaking them up
Doesn't nest well for stacking
Also Available At
BEST FOR ONE PERSON
This super cute Progressive International microwave mini steamer is our top pick for the best steamer for one.
At only about 7" wide, it fits in nearly any microwave and cooks the perfect serving size for a solo diner.
It works double duty by offering a colander in the insert, and takes up little space so it's perfect for small kitchens. It's even highly portable for a take-and-cook office lunch!
This microwave steamer is great for both fresh and frozen veggies and fruits, and smaller proteins.
While it won't offer some of the other functions that some other models do, it's still perfect for a quick, healthy meal or side when you're cooking for one.
Pros
2 cup capacity is perfect for a single person
Budget friendly price point
Removable steam basket keeps food from getting soggy & works as a colander
BPA free plastic
Microwave and dishwasher safe
Fits in a lunch bag for work lunches
Cons
Lid does not lock, so slides off if tilted
No steam vent on top
Comes with minimal instructions
Not designed for rice or other functions
Also Available At
BEST COLLAPSIBLE STEAMER
The EuChoiz is the best collapsible microwave steamer choice.
This oval-shaped steamer holds your veggies and fish, and has a convenient insert to keep them out of the water.
Two sizes allow you to choose the best for your needs, but they don't nest so you'll need space.
The EuChoiz flattens down to just 1.5" tall when not in use so you can slide it into a cabinet or drawer pretty easily.
Just make sure it accommodates the 11" overall length!
I think it's great for a small kitchen, and provides an easy way to make veggies and seafood quickly. I also enjoy it for reheating food when I'm trying not to dry things out too much!
Pros
Made from BPA free silicone (not plastic)
Collapses down to just 1.5" tall for easy storage
Available in small or large for single or family use
Removable partition keeps food out of the water
Cool touch handles for easy handling
Freezer, microwave, and dishwasher safe
Choose from 4 transparent colors
Cons
Lid does not have a vent
No locking mechanism, though lid doesn't slide much
Still 11" long despite the collapsing, which may not fit in small microwaves
Also Available At
HONORABLE MENTION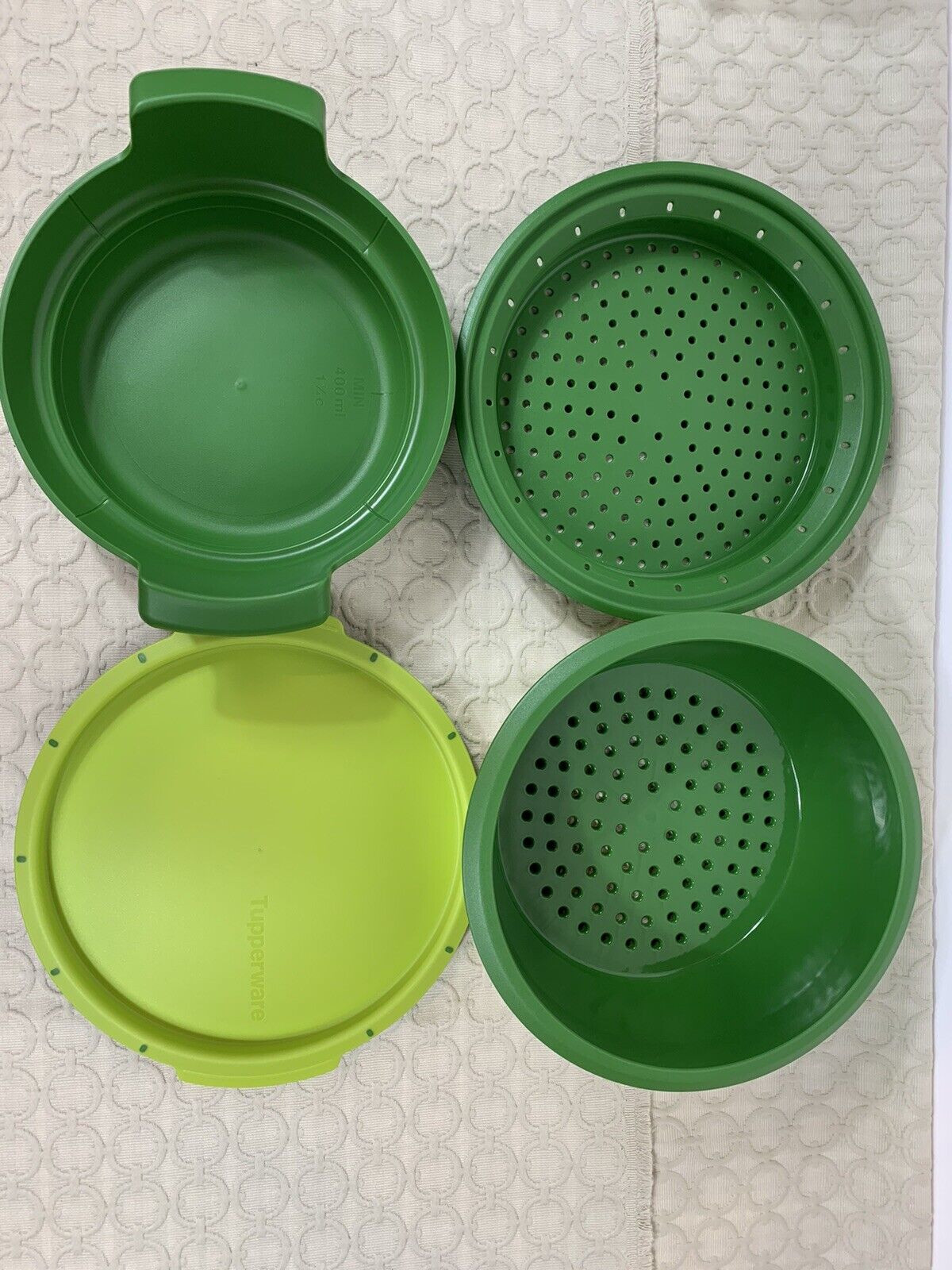 Our other honorable mention goes to the Tupperware smart microwave steamer.
A household name, you know that Tupperware makes quality containers that will last a long time. However, the very high price point compared to similar steamers is definitely off-putting for some.
As long as your microwave is large enough to hold it and not too powerful, it works pretty well overall.
I like that it's double layered so I can cook fish and veggies at the same time.
Just, compared to some of the other options out there it's decidedly a runner-up for me.
If you're interested in what else Tupperware can offer, then check out my list of the best Tupperware microwave pressure cooker recipes to get your taste buds salivating!
Pros
Two-tiered system for cooking multiple things at once
Works as a steamer and colander
Basket keeps food out of the water
Dishwasher safe for easy cleanup
BPA free
Cons
Longer vegetables won't fit in round unit without breaking them up
At 10.5" diameter it doesn't fit in some smaller microwaves
2x-3x the cost of other similar plastic steamers
Not compatible with microwaves over 1200W
Can't use for rice, it's a steamer only
What is a Microwave Steamer?
A microwave steamer is a layered cooker with holes in the top level. You place water in the bottom and your food on the top during cooking. As the heat turns the water to steam, it rises through the holes and cooks your food without waterlogging it.
Really, the advantage to the steamer basket is that you're able to achieve that moist, steamy cooking method and your food won't be drowning in water.
In fact, excess fat and juice will naturally trickle down into the base as well.
Note that there are some steamers that don't offer the removable basket.
To me, this somewhat defeats the purpose. However, they're still fully capable of steaming, but you won't be able to season anything and need to plan on it being mushy if you go this route.
Having the steamer basket is a perfect choice when you're steaming bread that you don't want getting all soggy and gross. Learn how to steam a bun in the microwave, and I bet you'll see how useful a steamer basket can be!
Using a steamer also means there's no draining required before serving, which can be both hot and dangerous! Instead, you'll be able to remove your food, allow it to cool, and deal with it later.
Plus while steamers are great for vegetables, they're equally awesome at cooking some other things. I love versatile kitchen tools!
How to Use a Microwave Steamer
Remove the inserts
Add ½ cup to 1 ½ cups water (depending on size of basket and how long you're cooking) to the base of the steamer basket. You want the bottom entirely covered, and to allow for evaporation during cooking, so longer cycles need more water
Place the food you want to steam into the insert
Add any butter, oil, or seasonings desired
Set the insert back into the steamer over top of the water
Secure the lid on top, and place the steamer basket into the microwave
Cook following recipe directions until food is steamed
Remove steamer from microwave, carefully remove lid, and remove insert to serve
Just be careful when you first open the lid, as there will be some hot steam built up that will escape. Open it away from you, and I recommend putting on an oven mitt as well to protect your hand.
Put these tactics to good use when you learn how to cook brussel sprouts in the microwave. The microwave steamer is a perfect tool for making tender, tasty vegetables!
Top Features to Look for in a Microwave Steamer
If this is your first time looking at a microwave steamer, it's probably helpful to know what the top features of one are. This will help you compare and decide what is most important to you when buying!
Steamer Basket Capacity
Capacity of a microwave steamer basket is incredibly important because this determines how much food fits into it. Whether you're cooking for one or five people is going to play a big part in what steamer is most useful for you.
| Common Steamer Capacities | Number of People Fed |
| --- | --- |
| 2 Cups | 1-2 People |
| 4 Cups | 3-4 People |
| 14 Cups | 5-6 People |
| 17 Cups | 6-8 People |
Now, the size is also subjective to what you're cooking in it.
For instance, if you're steaming rice as a side dish to a different main dish, then you'll be able to feed more people. However, if you're cooking the bulk of your meal in the steamer, the number of full bellies will be fewer.
If you're cooking for a crowd, check out our best air fryers for large families for another helpful kitchen appliance that fits your big crew!
Material of the Microwave Steamer
Another important trait to check out is the material your steamer is made from. Most commonly, microwave steamers are available in:
Plastic/Silicone
Ceramic/Clay/Stoneware
Glass
Not all ceramic versions are dishwasher safe, so if easy cleanup is important to you, that may factor into your choice.
Both ceramic and glass are prone to breaking on impact. If you have kids in the house or are just prone to dropping things, maybe plastic is a better choice.
Plastic will sometimes hold stains (like your Tupperware) and retain odors. If you're often cooking fish or something stinky then maybe another material is a better option.
Also remember that microwave steamers are designed with materials specifically for use in the microwave.
Just because you have another container at home that's capable of steaming doesn't mean it's safe. Learn more about the microwave safe symbol and what to look out for!
Microwave Steamer Storage and Size
The last major trait to look for in a microwave steamer relates to size and storage. Overall, you want to look for one that's going to fit your food needs, but also your kitchen.
If you're short on space, choose a microwave steamer that's collapsible when not in use for easy storage.
Alternatively, a steamer with multiple inserts provides more vertical height to cook without taking up additional floor space.
Oh and one often overlooked tip: measure your microwave. If you've picked up one of these best dorm microwaves they're great for small shared spaces, but not so much for large steamers.
Make sure you choose one you can actually use!
What Can I Cook in a Microwave Steamer?
Here are some of the most common items to cook in a microwave steamer:
Vegetables
Fish
Chicken
Rice
Dumplings
Pasta
Buns
Pudding, Custard, or Flan
Cake
Note that not all microwave steamers can cook all of these things. A lot depends on the style, material, number of inserts, and overall design. Vegetables and fish are the two most common uses.
If something like rice is really important to your diet, make sure to pick a model that safely cooks that as well. Alternatively, check out our best microwave rice cookers for a different tool to get the job done!
Conclusion
Microwave steamers are such a useful tool for quickly and easily making healthy veggies, fish, and more. We hope our buying guide, reviews, and recommendations help you find the perfect one for your needs.
If you're a fan of microwave cooking, you may also want to learn more about the microwave pressure cooker for use in turning out meals that feel slow cooked. It's great for stews, curries, and more. Then, steam your sides to go with the meal!  I love quick and easy cooking options!
Latest posts by Katie Vine
(see all)