Sliders have got to be one of the best party foods out there. They're substantial enough to offset the drinks, but small enough that you can try a few different types and not feel guilty! If you're looking to take your spread to the next level, then these awesome air fryer sliders recipes are just what you need!
There are a huge variety of different fillings you can put in your sliders, not to mention all the buns, toppings, and sauces. Mix and match and suit a variety of taste buds and dietary needs!
Sliders are so easy to prepare thanks to the air fryer. They can cook meat, melt cheese, toast your bread – you name it!
It makes cooking these little handheld sandwiches a breeze so you can get back to entertaining that much faster. Plus, you don't have to heat the house up with the oven!
So, without further ado, let's get into some awesome air fryer sliders recipes!
1. Hawaiian Roll Pizza Sliders
Pizza in the form of a slider? Yes, please! These Hawaiian roll pizza sliders are the perfect little bites to make in your air fryer.
Loads of pepperoni, melted cheese, sauce, and seasonings make for the perfect bite when packed into sweet Hawaiian rolls.
They're ready in just about 30 minutes, making them convenient for lunches, appetizers, or your game day table. Plus, they're a crowd pleaser for kids and adults alike!
Just like any pizza, you can swap up the fillings for all sorts of pizza toppings and make your family favorites.
You can even sprinkle parmesan cheese or red pepper flakes on top for that true pizzeria feel. I love to dip them in garlic sauce for an extra treat!
Hawaiian Roll Pizza Sliders
These gooey pizza sliders with hawaiian rolls have the flavors of pizza in a delicious appetizer and can be made in the oven or air fryer!
Check out this recipe
2. Jalapeno Popper Burger Sliders
These air fryer jalapeno popper burger sliders are an incredibly tasty mashup of two classic appetizers.
That's right, juicy burger sliders are topped with everything you love about a creamy, spicy jalapeno popper, including bacon!
Even though they're packed with flavor, they're actually very easy to make and take just 15 minutes, prep included!
Serve your sliders with fries to make a complete meal, or add these to your game day or party food table. They go great alongside wings and other fried foods and offer a filling option that your guests will love.
Jalapeño Popper Burger Sliders
These air fryer jalapeño popper burger sliders are the perfect appetizer for your next party! They're flavorful, spicy, and cheesy, just like your favorite fried appetizer.
Check out this recipe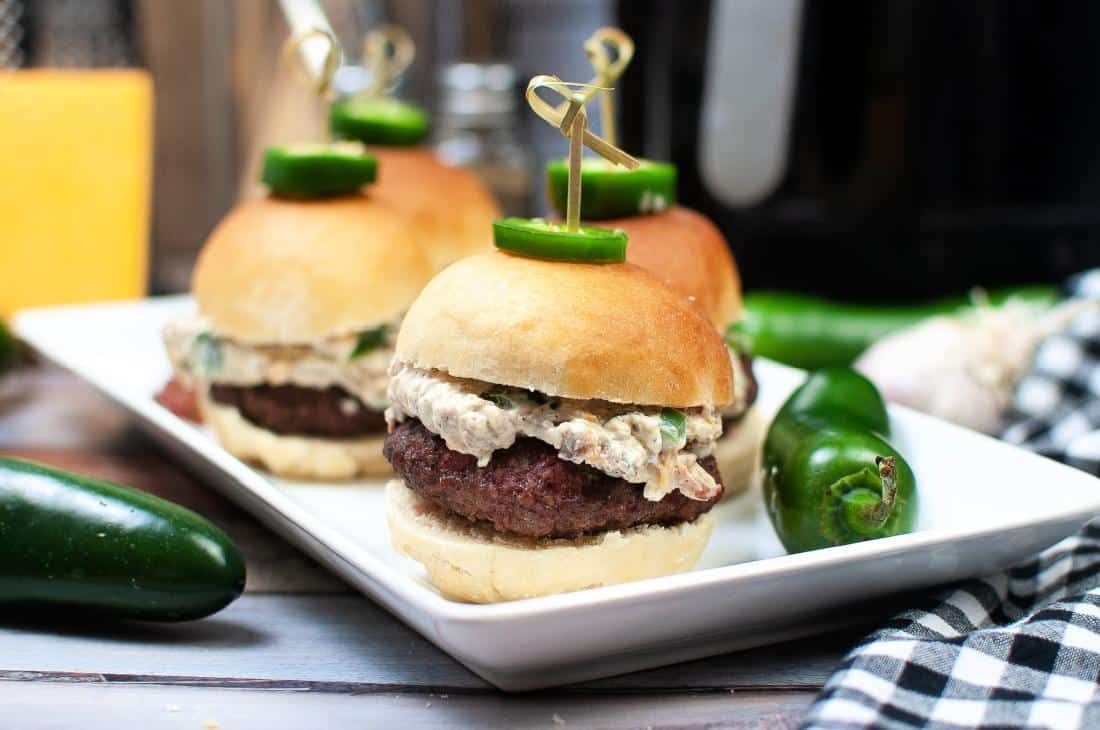 3. Air Fryer Hamburger Sliders
If spicy isn't your thing, how about these incredible air fryer hamburger sliders instead? This recipe cooks up beautiful classic burger sliders perfect for light meals, parties, and of course the tailgate!
The thing I love most about burger sliders is the ability to dress them up any way you want (or let your guests make their own)! Add cheese for cheeseburgers, pile on lettuce, onion, tomatoes, pickles, and other toppings.
Finish things up with ketchup, mustard, mayo, burger sauce, or whatever else you're craving. Burgers are like a blank canvas for your creations, and with these slider-sized options you can mix and match and try them all!
It only takes about 20 minutes to get these tasty burger sliders on the table thanks to your air fryer, so you can get to enjoying them that much sooner!
Air Fryer Hamburger Sliders
These juicy and delicious Air Fryer Hamburgers are extremely easy to make, cooked to perfection, and ready in just 20 minutes.
Check out this recipe
4. White Castle Sliders in the Air Fryer
Skip all the prepwork and take a shortcut with frozen White Castle sliders in the air fryer. These classic drive thru sliders come in plain hamburger, cheeseburger, and jalapeno options to suit any palette!
Are they as good as fresh? Well, no, but they are still really tasty and only take 10 minutes to cook, with no defrosting required.
That sure beats sitting in line at the drive thru and saves you a lot of time in making the patties yourself if you're in a rush.
These sliders come with grilled onions as well, but you can still customize them by adding pickles, sauces, or other toppings as you like.
5. Ham and Cheese Sliders on Hawaiian Pretzel Rolls
Looking for a tasty way to use up leftover ham from Christmas or Easter? Look no further than these easy air fryer ham and cheese sliders on Hawaiian pretzel rolls.
Ham and swiss cheese are accented with seasoning and Dijon mustard for the perfect bite. Thanks to your air fryer, they come out warm, toasty, and melty in just about 10 minutes total!
Of course, you can swap up the cheeses and sauces to your liking, and even use deli ham when you want a tasty slider during non-holiday seasons.
These kid- and adult-pleasing sliders are a hit for lunches, cookouts, tailgates, and more!
6. Turkey and Cheese Sliders on Hawaiian Rolls
Use up that leftover Thanksgiving turkey with these tasty air fryer turkey and cheese sliders on Hawaiian rolls. Of course, you can also use deli turkey any time of year (I like smoked turkey best)!
Swiss cheese, mustard, onion, and butter combine to make a delicious sauce that really makes these sliders shine.
They're perfect for lunches, cookouts, and are crowd-pleasing for kids and adults alike at parties and other get-togethers. I like to pair mine with sweet potato fries when I want a complete meal!
7. Air Fryer Salmon Sliders
For a nice change of pace from the burger scene, these air fryer salmon sliders are the perfect fish option for your small sandwiches.
Salmon filets are seasoned with lime, air fried to perfection, and topped with crunchy lettuce, juicy tomato, and a spicy chipotle mayo. Throw everything together on some sweet Hawaiian rolls, and you've got one delicious bite!
These salmon sliders are great for Lent when you're avoiding other meats, but don't let that stop you from enjoying them anytime! You can even throw some bacon on there for a salmon BLT!
Air Fryer Salmon Sliders with Chipotle Mayonnaise
Air fryer salmon sliders are perfect as an appetizer, game day offering, or light meal. Sweet Hawaiian rolls and slightly spicy chipotle mayonnaise make the perfect complements!
Check out this Air Fryer Salmon Sliders recipe
What to Serve With Sliders at a Party
Fries (potato, sweet potato, or other)
Potato chips
Onion rings
Fried pickle chips
Mozzarella sticks
Pasta salad
Macaroni salad
Potato salad
Coleslaw
Baked beans
Mac and Cheese
Hot dip (any kind)
Fresh vegetables
Corn on the cob
Fried cauliflower bites
Green salad
Fresh fruit
Assorted condiments
Pair your air fryer sliders with one of these amazing Air Fryer Dip Recipes, a side of Air Fryer Chili Cheese Fries, or these easy Air Fryer Baked Beans.
In a hurry? Skip the prep and whip up these Air Fryer Frozen Cauliflower Wings or Frozen Onion Rings in the Air Fryer in no time!
Air Fryer Sliders Cooking FAQs
How Long Do Sliders Take in an Air Fryer?
Sliders take on average between 10-20 minutes in an air fryer. This will vary based on the type or meat or other fillings you use, as well as your individual air fryer.
That time only accounts for cooking time. Preparation time to assemble the slider ingredients may require additional time.
How Long to Cook Frozen Sliders in an Air Fryer?
Frozen sliders in an air fryer generally require 10-15 minutes to cook, depending on the fillings.
A frozen slider is already fully cooked, so this process is just to defrost and heat to a food safe temperature.
How Many Sliders Per Person?
A good rule of thumb is to assume 2 sliders per person for a serving size.
Of course, this may vary slightly based on the size of your specific sliders and the amount of filling, but two is considered average.
Do You Cover Sliders When Air Frying?
You should cover sliders when air frying if you want a soft, steamed texture. If you prefer a toasted, less soggy slider, then you will want to cook them uncovered.
A combination is also fine, wherein you cook the sliders covered for the majority of time, then remove the cover in the last few minutes just to get a little crisping.
How Do You Keep Sliders Warm For a Party?
The best way to keep sliders warm for a party is to wrap them in foil. For extended heating, place them in a slow cooker or a conventional oven set on the lowest temperature setting.
Sliders are also easy to reheat by placing them back in the air fryer for 3-5 minutes as needed.
Final Thoughts
These air fryer sliders recipes are the perfect bite for your next party or other get together. They're small yet substantial, making for an offering that will keep your guests satisfied! Plus, they're so easy to make you can try several different types to please the whole crew.
Sliders also make for a meal of their own when paired with some side dishes. It's a great way to repurpose leftover meats into something fun that even your picky eaters will enjoy!
The air fryer does a great job of giving you the perfect cook on the meats, cheeses, and breads that make up the ultimate slider. You won't have to turn on your range oven and heat up the house, and they're ready in even less time.
Slide right in to this great compilation of the best air fryer sliders and find your favorites!
Latest posts by Katie Vine
(see all)