There are a lot of great preparations to choose from when it comes to scallops. Luckily, we've taken the guesswork out of what to try first! I've compiled the best air fryer scallop recipes for you to try the next time you're hankering for some seafood.
From frozen and fast to delicate and decadent, we have them all. Whether you're cooking with bay scallops, sea scallops, and looking for an appetizer or a full meal, I've got you covered with recipes to suit every need.
1. Frozen Bacon Wrapped Scallops
When it comes to snacks and appetizers, bacon wrapped scallops are always a hit. Did you know that you could cook them from frozen, without defrosting?
Whether you purchase pre-frozen ones, or wrap your own and freeze them for later to cut down on prep time, it's all the same. These frozen bacon wrapped scallops in the air fryer cook up perfectly, with crisp bacon and juicy scallops in under 15 minutes.
You'll have an elegant appetizer, snack for game day, or just a treat anytime you have a craving for scallops and bacon.
Frozen Bacon Wrapped Scallops in Air Fryer
This easy Keto friendly appetizer is cooked from frozen and on the table in 15 minutes or less. Whether you use pre-made or prepare your own in advance, it's a huge timesaver for entertaining.
Check out this Bacon Wrapped Scallops recipe
2. Cajun Bacon Wrapped Scallops
Add a little cajun kick to your traditional air fryer bacon wrapped scallops with this recipe.
Tender sea scallops are complemented by salty bacon and some heat from the cajun dusting they get. Serve with some drawn butter for the perfect bite.
For extra crispy bacon, you'll pre-cook it a bit (while still leaving it flexible) in your air fryer before wrapping the scallops. This prevents the scallop overcooking while giving you that dark coloring and crunch from the bacon wrapping!
You can always make these in advance and freeze them, cooking them following the frozen option above. However, they come together quick enough to make an easy appetizer anytime!
Cajun Bacon Wrapped Scallops
Air Fryer Bacon Scallops are very easy and turn out perfectly cooked every time! These work well as an appetizer or entree for any occasion. Sprinkled with Cajun seasoning and wrapped in bacon these are done in 20-minutes.
Check out this recipe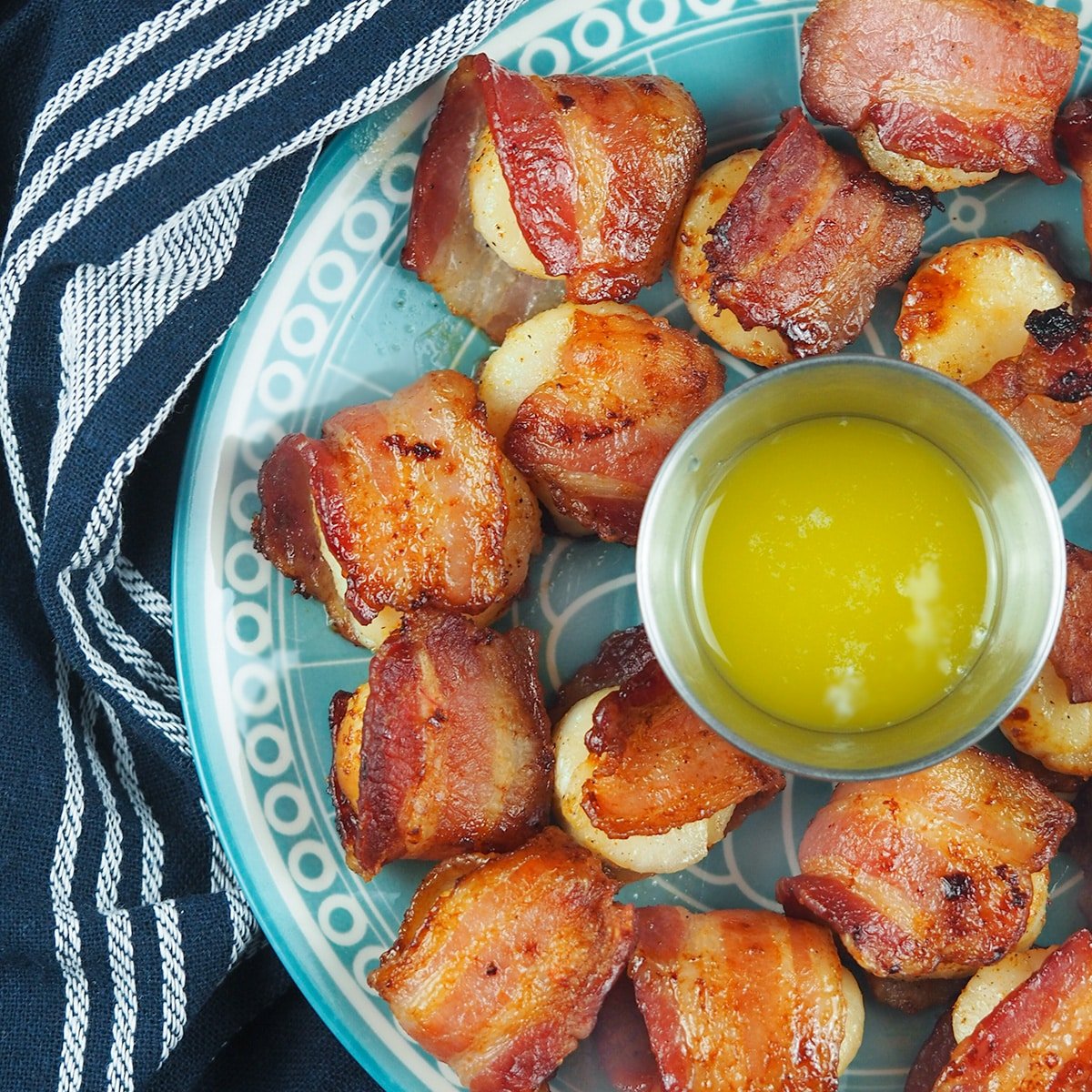 3. Simple Air Fryer Scallops
Keep it classic with a simple air fryer scallops preparation that uses seafood seasoning, salt, and some garlic for flavor.
This blend offers an ideal complement to the seafood, without overshadowing the delicate (but delicious) flavors a scallop naturally has.
These gorgeous jumbo sea scallops are perfectly cooked in under 10 minutes! Serve them with sauce for dipping, or give them a generous drizzle for a ready-to-eat presentation.
Offer them up alone for a decadent appetizer, or pair them with pasta, couscous, rice, potatoes and vegetables for an easy dinner. No matter what way you choose, they're going to be delicious!
Simple Air Fryer Scallops
Air fryer scallops are quick and easy to make with only a handful of ingredients. With just 15 minutes of time, you'll have tender, plump scallops ready to devour straight from the air fryer!
Check out this recipe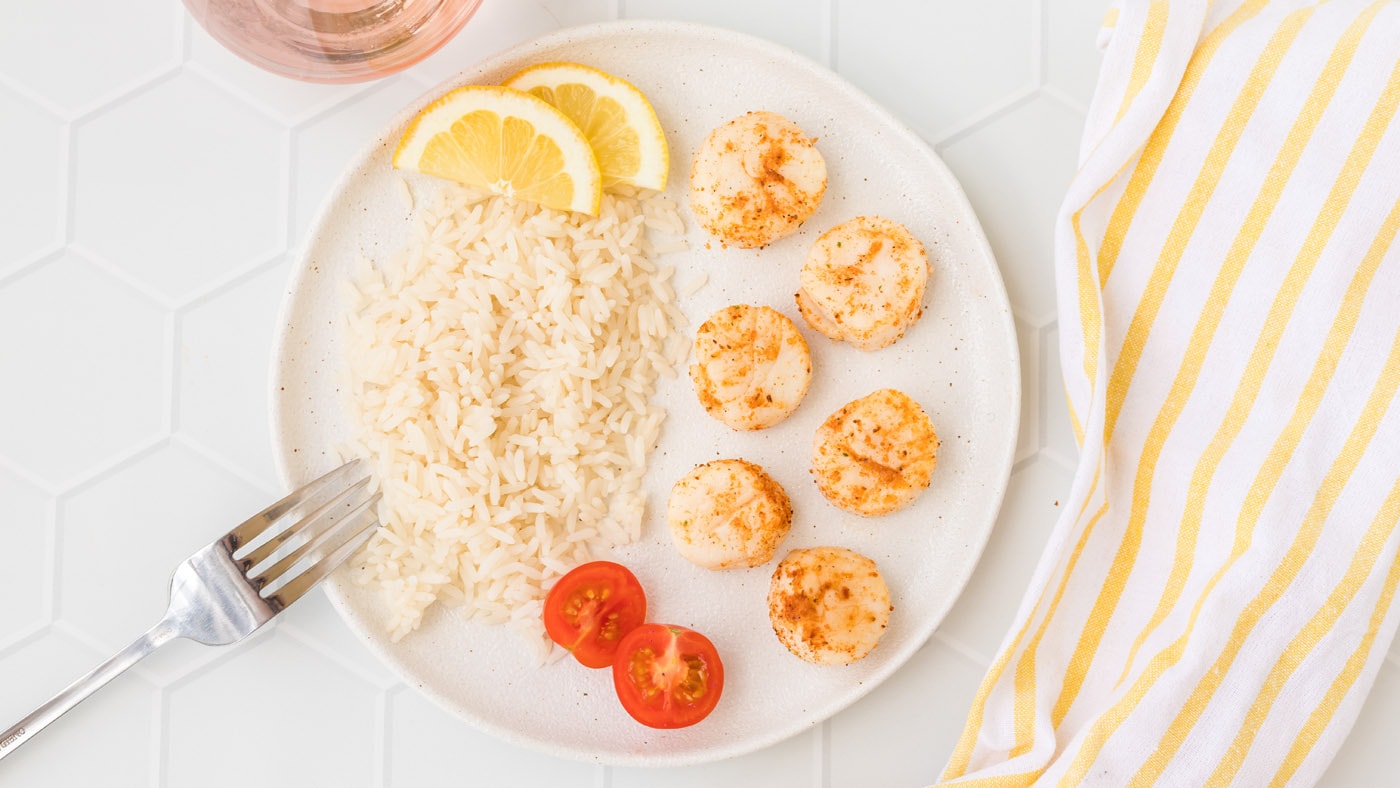 4. Air Fryer Frozen Scallops in Garlic Butter Sauce
It's not just appetizers that you can cook from frozen. These air fryer frozen scallops give you a quick leg up to getting dinner on the table quicker.
Start with frozen scallops and pop them right in your air fryer with no need for defrosting. Season them and add a delectable garlic butter sauce (or any sauce you like honestly).
Dinner will be ready in about 10 minutes for bay scallops and 15 minutes for larger sea scallops (or even less if you did remember to defrost them)!
Serve with pasta, rice, and a steamed vegetable on the side for a complete meal.
Air Fryer Frozen Bay Scallops in Garlic Butter Sauce
Air fryer frozen scallops take the guesswork out of cooking them perfectly. Pair with a tasty garlic butter sauce for an easy weeknight dinner!
Check out this Frozen Bay Scallops recipe
5. Scallops with Capers Sauce
This recipe for air fryer scallops with capers sauce is perfect for an easy, yet flavorful meal. They come together in just about 20 minutes, making for a weeknight friendly meal.
Fresh sea scallops are accented by the tangy sauce containing lemons, capers, herbs, and seasoning.
It's the perfect complement to the delicate scallops, adding flavor while allowing them to still shine!
Pair with some grains, greens, or roasted veggies to make a complete meal!
Air Fryer Scallops with Capers Sauce
These Air Fryer Scallops with Capers Sauce are the quickest gourmet meal, ready in just 21 minutes! Dip succulent scallops in a flavorful sauce like the capers sauce to add just the right amount of zing to each bite for the most delicate seafood feast.
Check out this recipe
6. Air Fryer Scallops With Lemon and Tarragon
Between dill and tarragon, I'm not sure what's more popular as a seafood seasoning! So, it comes as no surprise that this classic pairing of lemon and tarragon accompanies these delicious air fryer scallops.
Of course, that's not to say you can't swap in some other herbs as well in this highly versatile recipe.
Using jumbo sea scallops will give you a hearty meal and spectacular presentation for your meal. Speaking of which, you'll have dinner ready in just about 10 minutes!
Serve these luscious scallops on their own, or pair with some other sides for full dinner. Either way, they're going to be the star of the plate!
Air Fryer Scallops with Lemon & Tarragon
These air fryer scallops are quick, easy and come out tender and juicy! I flavored them with lemon, garlic and tarragon for a delicious flavor combination.
Check out this recipe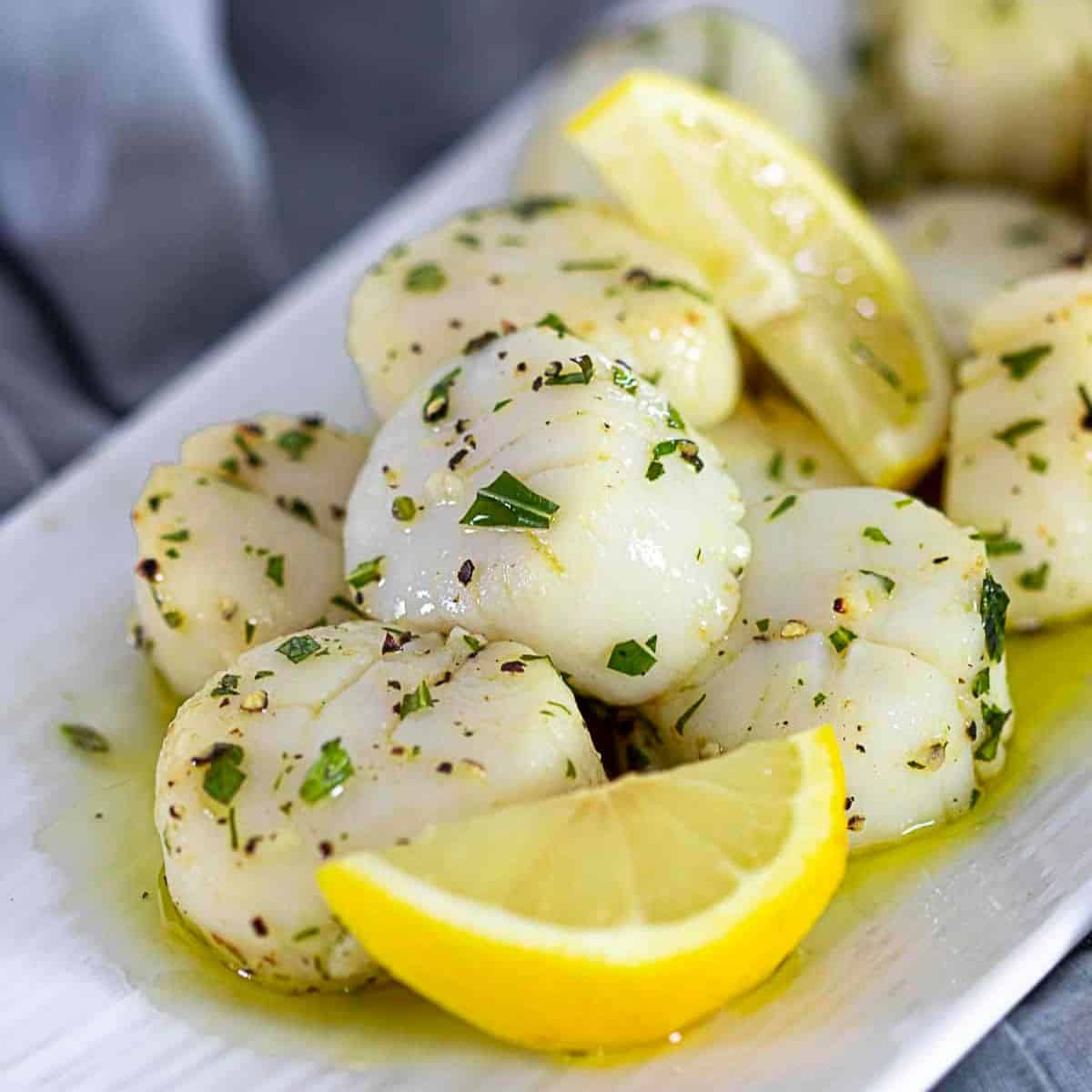 7. Scallops with Lemon Cream Sauce
This recipe for air fryer scallops with lemon cream sauce is drool-worthy!  Sea scallops are cooked to perfection in under 10 minutes thanks to your air fryer.
While they're busy getting browned and delicious, you'll have time to make the decadent lemon cream sauce for them. It's got lemon, garlic, herbs, and a little pepper all rolled into a cream-based sauce.
Once those scallops are ready, top them up with your sauce for the perfect bite. I highly recommend pasta or rice to help soak up any extra sauce. Even some nice crusty bread would do the trick, but definitely don't let any go to waste!
Serve with a green salad and some vinaigrette to complement the acid in the cream sauce and you have the perfect dinner plate!
Scallops with Lemon Cream Sauce
Air Fryer Scallops with Lemon Cream Sauce – Scallops browned to perfection in an air fryer, then drizzled with a lemon basil cream sauce.
Check out this recipe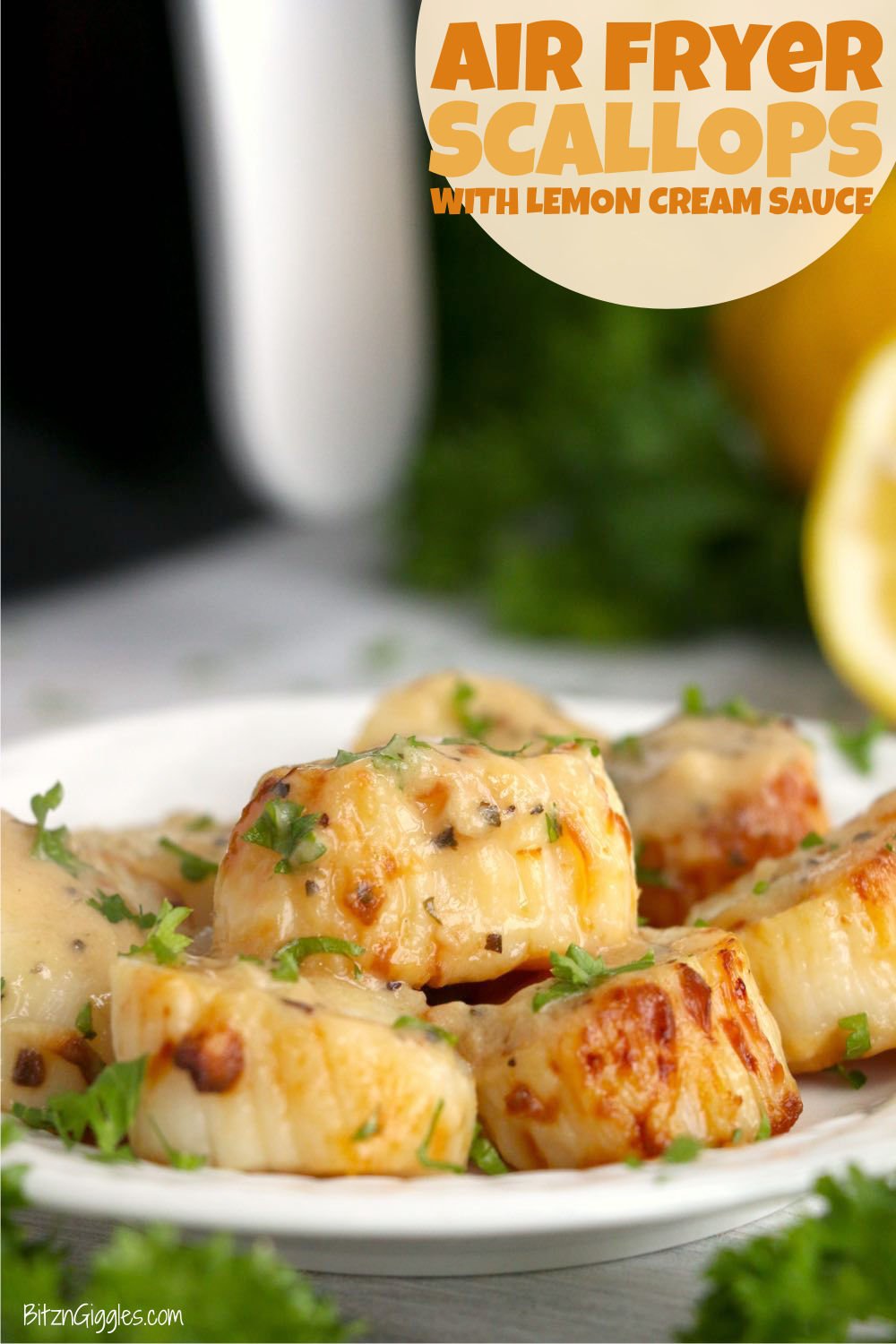 8. Breaded Scallops with Panko and Parmesan
Take the guesswork out of cooking scallops and worry about rubberiness no more. These easy air fryer breaded scallops are a (nearly) foolproof way to enjoy delicious, succulent scallops with a salty, crunchy crust.
You'll want to start with fresh or defrosted scallops here, as the moisture doesn't do the breading any favors for staying on. However, that means they cook even quicker! This recipe comes in at about 10 minutes of cooking time for a fast weeknight dinner option.
It's highly customizable to taste if you want to add different seasonings.  Serve with some lemon wedges for the perfect kiss of acid on these decadent scallops.
Breaded Scallops with Panko and Parmesan
Air fryer breaded scallops are browned and crisp outside, with juicy perfectly cooked scallops inside. This easy recipe features parmesan and panko for crust and flavor.
Check out this Panko Breaded Scallops recipe
9. Air Fryer Crispy Scallops
These air fryer crispy scallops get their crunchy shell thanks to a coating of crushed cornflakes. That's right, your breakfast cereal now makes a perfectly crunchy preparation for your scallops!
This simple recipe uses a dredge to get that nice crust, and has just enough seasoning to make things delicious, while letting the natural flavor of the scallop still shine through.
It's a great alternative to deep-fried scallops, as you'll use far less oil with this air fryer method. Don't worry though – you won't be sacrificing any flavor or texture to do so!
Air Fryer Crispy Scallops
Do you love eating scallops but want to avoid all the mess and high-calories that come by deep-frying them? Try these air fryer crispy scallops! They are delicious and crispier with flour, paprika, and cornflakes.
Check out this recipe
10. Basic Air Fryer Scallops
This basic air fryer scallops recipe is the perfect option for cooking scallops to add to other dishes, or if you've got a restrictive diet. They're very keto-friendly!
Sea scallops are seasoned only with salt and pepper, plus a little oil for cooking. You can top them up with lemon and herbs and enjoy them on their own if you like!
However, they also lend themselves well to being added to something else, like an alfredo sauce on pasta. Alternatively, top a steak with a side of these scallops for a surf and turf option!
This basic recipe is a perfect starting point and a blank canvas for you to turn your scallops into any meal you like!
Basic Air Fryer Scallops
This air fryer scallops recipe allows you to make a seafood favorite right in your air fryer. Air fried scallops are perfect for dinner.
Check out this recipe
Air Fryer Scallop Cooking FAQs
Are Scallops Good in the Air Fryer?
Yes, scallops are good in the air fryer. It's an even easier method than cooking on the stovetop in terms of getting a correctly cooked scallop.
You'll still get a nice crust on your scallop as well, so you're not sacrificing texture either.
How Do You Know When Scallops Are Done in an Air Fryer?
Scallops are done in an air fryer when they turn white and opaque, and reach an internal temperature of 125°F.
Up to 5 degrees under is usually fine, as residual heat will finish cooking them.  Ideally, less than 135°F will keep scallops out of the rubbery zone.
Should You Rinse Scallops Before Air Frying?
While not necessary, you can rinse your scallops before air frying. This may help to remove any residual sediment or external debris present.
Make sure to thoroughly pat scallops dry before cooking, though, to ensure best results.
Final Thoughts
I hope you've enjoyed looking through the best air fryer scallop recipes and are inspired to try some of them for yourself!
From simple to decadent, appetizers to entrees, there's a variety of recipes to choose from. If you love scallops, you'll have to give them all a try and find your favorites!
Latest posts by Katie Vine
(see all)